"Children's entertainment with action and humor, but without violence, is becoming more and more in demand."
LazyTown Entertainment is an entertainment and licensing company dedicated to creating children's products, which deliver pro-health and pro-social messages in an entertaining and nonviolent way.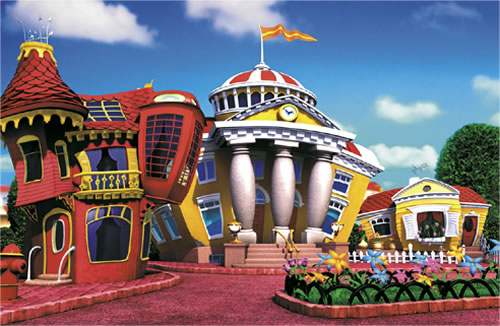 Founded in 1995 in Reykjavik, Iceland, the Company has enjoyed continuous growth and has attracted an ever-expanding family of investors and business partners, including international banks, consumer products companies, publishers, apparel and toy companies.
At the heart of all of the Company's activities is an entertainment property known as LazyTown, which chronicles the adventures of a superhero, a group of kids, and a super-villain, in the laziest town on Earth. In its native Iceland, LazyTown is a household name, beloved by kids for its entertainment value and by parents for its healthy message.
The philosophy of LazyTown is to activate children and inspire them to live a healthy life. This philosophy has already been widely spread in Iceland and shows how well the concept is adapted to children. In the form of a TV series the television can be turned into a part of the solution to children's obesity and lack of physical activity.