The Olympics
The first games were held in the summer of 1999 all over the country (Iceland) and the emphasis was on reaching out in the community. This was done by both going to small villages as well as to larger towns and encouraging everybody to come. The events were sponsored by the Vegetable Farmers Association, among others.

Everybody who participates is a winner, because the real victory is to get people of all ages to join in.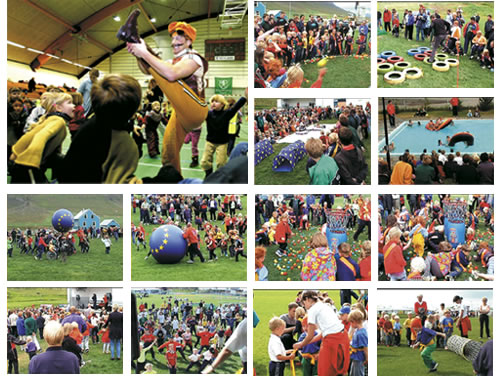 The games are based on the idea that physical activity doesn't always have to be traditional sports. Everybody, despite age, physical ability or stamina is welcome to participate. The non conventional sports event is mixed with entertainment and the atmosphere of a family outing. At each game, fruits and vegetables are given to participants. The grand finale is a great party geared towards children, where LazyTown characters sing, dance and play games with them.