Books Ages 1 to 3

Sportacus
Our healthy hero has his hands full trying to motivate the laziest town in the world to change its lethargic ways.
Robbie Rotten
This villain and con man has no scruples but, in the end, even he learns that crime does not pay.
Pixel
He stays up all night watching TV and playing computer games. Sportacus teaches him that going to sleep early and playing outside is energizing and enables you to use the computer and TV in a positive, active way.
Trixie
This troublemaker needs to learn that if you ask someone for permission to play rough and they say yes, it is okay. On the other hand, if they say no and you do it anyway, it is violence and not fun and games.
Jives
Constantly fainting from malnutrition and experiencing discomfort, Jives is too tired to have any fun with other kids. Varying and balancing his diet transforms him into a healthy strong boy.
Stingy
He claims everything in sight even though he has more toys than all the other kids in LazyTown put together. But sometimes it is more fun to play with friends on equal terms than it is to play with all the nicest toys by oneself.
Stephanie
Stephanie can't move, she can't touch her toes, she cant do any of the fun things she wants to do until Sportacus shows her how to exercise and stretch.
Ziggy
Ziggy had better watch it; the amount of toffee he eats is very bad for the teeth. He has to start brushing them more often and eating less candy. Ziggy, however, thinks that brushing and eating toffee at the same time is an excellent idea…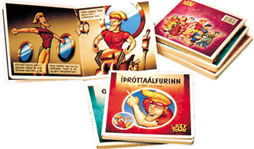 Books Ages 4 to 8
Go! Go LazyTown!
was the best-selling children's book and sixth- best-selling book in all categories in 1995. It was sold with a game and exercise CD that has all sorts of sound effects. It leads children on an exciting journey, without their realizing that if they play along with the CD they are actually stretching and exercising.
LazyTown in Trouble
was the fourth-bestselling book in 1997, and number one on the children's list.
LazyTown at the Olympics,
accompanied by an exercise book for children, was number five on the best-seller list in 1996 and on the top of the children's list.

Books Ages 4 to 100+




The LazyTown Cookbook
Its exotic yet healthy recipes are illustrated with colorful pictures of the characters, as well as simple, step-by-step instructions. Emphasis is placed on enabling children to make informed decisions about their diets as well as providing them with exciting meals that fulfill their nutritional needs.

One of the most popular recipes in the book is a fruit castle that fuels the imagination and boosts energy levels.

Various companies, in addition to organizations, sponsored the book.

In the holiday season 2000 The LazyTown Cookbook was a great hit. The week before Christmas it passed by such giants as Harry Potter on the best-seller list.