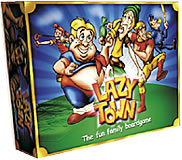 The Latador Board Game
Latador is truly a board game for the whole family, aged 4 to 100+.

In order to win this game all aspects of life count, including being considerate and honest, brushing your teeth, and dancing ballet for 30 seconds. All everyday choices are taken into account and nobody is guaranteed an easy victory.